Landscape Design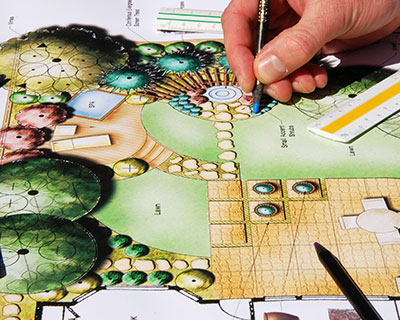 Any homeowner that has open spaces on their property wants to ensure that these spaces look as stunning as the indoor areas of their home. In fact, gardens and yards are an extension of the home and are used as entertainment and leisure zones. If you want to use these spaces optimally, you would have to ensure they are designed and planned well. That's the only way they can be used more functionally.

We at Terra Designs & Creations are one of the most reputed companies in the field and have built a strong client base across Suwanee, Sugar Hill, Lawrenceville, Gainesville and Duluth. We have successfully completed many landscape design and installation projects in and around Alpharetta, Snellville, Norcross, Lilburn and Winder.

We have expert landscape designers on our team that work very closely with our clients to ensure they get the kind of solutions they need. We know that every homeowner has different requirements and ideas.
Custom Landscape Plans
We understand this and work very hard to incorporate all these aspects in the designs we create for you. When we are creating yard plans, there are a number of factors we take into account:
The layout & grading of the property
Existing elements on the property
Architectural and design styling of the home structure
Client's requirements, ideas and preferences
Different concepts and themes to be used
Addition of hardscaping features
Type of softscaping (trees, plants and shrubs) required
Paver solutions
Construction of retaining walls
Addition of outdoor lighting
Installation of water features
Installation of decorative features
Other
We keep all these aspects in view and then provide stunning concepts and landscape ideas that meet your requirements. We also provide various material options for you to choose from. Once you have made your final choice of garden design, we provide you a detailed a quote and timeframe for the job.
After your approval, the project will be completed on schedule. We never cut corners on any count and use only the best materials in the work. This ensures your landscape stays looking stunning at all times.
Other Aspects of Garden Design
We also focus on making the installations low-maintenance and use materials that don't require too much care and are strong and durable. That adds to the integrity and resilience of the landscaping and the various elements are able to withstand the climatic changes and regular wear and tear in a much better way.
The plantings and other softscaping elements are sourced from the best nurseries and this ensures your landscape stays healthy and disease-free too.
All these aspects are a very important part of landscape design. We use various elements in the right proportion to create a landscape that's well-balanced and well-proportioned.
When you want sensational and unique landscape design solutions you need look no further than Terra Designs & Creations. For any additional information and landscape design cost for your project, please speak with our experts at this number - 770-318-5318. You can also send us all your project details via this online Contact Us form.