Sprinklers & Irrigation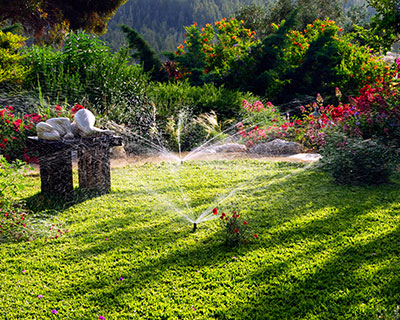 Softscaping is a very important component of any landscaping project and these require consistent and expert care to remain healthy and looking fresh and green. In addition to the right kind of maintenance, a landscape has to be watered regularly and it's why irrigation system installation is crucial part of the first stage of any landscaping project.

We at Terra Designs & Creations are one of the most reputed companies in the field and have built a strong client base across Suwanee, Sugar Hill, Lawrenceville, Gainesville and Duluth. We have successfully completed many irrigation design and installation projects in and around Alpharetta, Snellville, Norcross, Lilburn and Winder.

As mentioned at the outset, irrigation is a vital part of the first phase of a landscape project; and that's when we carry out irrigation installation too. However we also cater to irrigation upgrade requests.
Custom Irrigation Installations
Sometimes, the sprinkler systems on a property stop working and the homeowners want them replaced. At times we have customers with existing landscapes telling us that there is pooling of water in different spaces of their landscape. In most instances, this is caused by a poorly-designed drainage system, but at times it could be caused by excessive/erratic watering too and we look into this aspect of irrigation upgrades as well.
We understand that every landscape setting is different and that every property owner has different requirements. It's why we provide custom irrigation design and installation solutions at drainage system cost that fits perfectly into your budget.
Types of Irrigation Systems
Regardless of the kind of irrigation system you want installed, we are the experts that can help with solutions that work perfectly for you. The different types of systems we can install are:
Sprinkler systems - These are almost an integral part of most landscapes. You can choose between manual and automatic sprinklers. The latter offer a lot of convenience as all you have to do is set the timers for the desired time/s of the day- they will come on at that time every day, no matter whether you are at home or not and your lawn spaces will get the amount of water they need to stay green and healthy.


Drip irrigation - This is a very basic, yet effective type of irrigation system used in a number of landscapes. It is very water-efficient and your plants get watered with regularity via the emitter and pipe system that's part of a drip irrigation installation. Since the water gets deposited at the roots of the shrubs and plants, the plants get the water they need and there is no wastage.


Soaker hoses - These may also be installed as required and are perfect for expansive landscape settings.
When you want sensational and unique irrigation solutions you need look no further than Terra Designs & Creations. For any additional information and a quote please speak with our experts at this number - 770-318-5318. You can also send us all your project details via this online Contact Us form.