Outdoor Lighting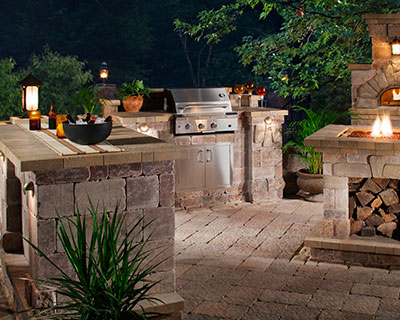 When you are getting your landscape designed and installed, you take a lot of care to ensure that the right elements are used in the work and that the installation is handled in an expert manner. While most homeowners focus on getting the best softscaping and hardscaping elements, the one feature that gets sidelined in most landscaping projects is the outdoor lighting.

We at Terra Designs & Creations provide end-to-end landscaping solutions and exterior lighting is one of the aspects we focus on, regardless of the scale of the project. Ours is one of the most reputed companies in the field and we have built a strong client base across Suwanee, Sugar Hill, Lawrenceville, Gainesville and Duluth. We have also successfully completed many landscape design and installation projects in and around Alpharetta, Snellville, Norcross, Lilburn and Winder.
The Importance of Outdoor Lighting
While a well-designed and installed landscape will look great in the daytime, you can't really enjoy it after dark unless it is illuminated well. This is where our expertise comes into the picture. Our landscape designers have vast experience with providing excellent garden lighting solutions.
In most instances, these are part of a broader landscape installation project; but there are times when homeowners contact us only for outdoor lighting upgrades and we handle this job in an expert manner too. There are a number of benefits to getting the right kind of outdoor lighting:
As mentioned earlier, you are able to use the outdoor spaces on your property in a more functional manner
Well-illuminated grounds act as a deterrent for trespassers, thieves and vandals
You are more comfortable with letting your kids and pets play in the yard after dark
It adds to the curb appeal of your home
Increases the value of your property
Outdoor Lighting - The Different Elements We Install
Yard lighting is much more than just installing a few lights along pathways and adding floodlights that are trained on the exterior of your home structure. It takes a lot of creativity and planning to add just the right kind of light fixtures and fittings to create an ambience that's stunning that adds to the attractiveness of your home and property. The different types of fixtures we install are:
Outdoor kitchen lighting
Garden lamp posts
Exterior building lights
Pathway and driveway lamps
Lights for retaining walls
Lights for columns and decorative pillars
Lights that are focused on decorative masonry elements in your garden
Lighting for steps
Lights for water features such as fountains, ponds & waterfalls
Paver lights
Other
Energy-Efficient Lighting
While it's important to have lights in the yard and garden, so many fixtures can significantly increase your energy bills. However, we have the perfect solution for that too. We recommend the use of LED lights and fixtures. These are 80% more energy-efficient than standard bulbs and last for a number of years. They throw "cool" light and help maintain a more comfortable outdoor temperature in the immediate surroundings of your home.
For any additional information and outdoor lighting cost please speak with the Terra Designs & Creations experts at this number - 770-318-5318. You can also send us all your project details via this online Contact Us form.