Swimming Pools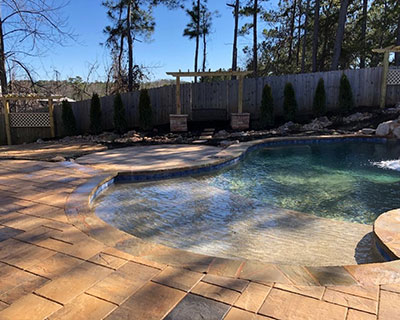 Swimming pool installations are a very popular addition to residential properties. They add value to the home and the poolscape becomes the perfect space to spend leisurely moments. The design and installation of a swimming pool is a very specialized job and only experienced landscaping professionals can ensure that this job is tackled in an expert manner.

We at Terra Designs & Creations are one of the most reputed companies in the field and have built a strong client base across Suwanee, Sugar Hill, Lawrenceville, Gainesville and Duluth. Our company has successfully completed many swimming pool installation projects in and around Alpharetta, Snellville, Norcross, Lilburn and Winder.
Swimming Pool Construction
We have been operating in this space for a very long time and adopt a very detailed and focused approach to swimming pool design and installation. Our experts discuss your ideas and requirements. They will also assess the available space and provide suggestions about where the installation should be located. There has to be sufficient space around the pool for movement and some outdoor furniture as well. We use various features in this space and focus on a number of aspects such as:
Pool pavers installation
Poolside lighting
Underwater lighting
Addition of sunning decks
Installation of a water feature as part of the poolscape
Construction of various decorative elements
Swimming pool natural stone coping installation
Appropriate tiling for the outdoor pool
Segregated kids' pool installation
Creating comfort zones in the poolscape
Installation of outdoor showers
Other
Custom Design Outdoor Pools
We know that your swimming pool and the area around it is exposed to the elements and it's important to use materials that would be able to withstand climatic changes. We also make sure that we use permeable paving in these spaces, as there is a lot of water here. This ensures there will be no pooling of water in the poolscape and the areas will have anti-slip surfaces.
The swimming pool plans we provide take all these aspects into consideration and this is what makes the spaces more functional. We use the best materials and workmanship in the project and ensure that the design concepts we use in this space complements the design and theme used in the rest of your landscaping.
Outdoor Pool Cost
Even as we focus on all these aspects we keep a tight handle on the swimming pool cost and ensure that it fits into your budget. When you hire us for the installation of your swimming pool, you are assured that the feature and the surrounding spaces will be low maintenance and a value-add to your property.
When you want sensational and unique water feature installations you need look no further than Terra Designs & Creations. For any additional information about pool installation and the other services we provide, please speak with our experts at this number - 770-318-5318. You can also send us all your project details via this online Contact Us form. Our experts will call you shortly for more details and further discussions.