Water Features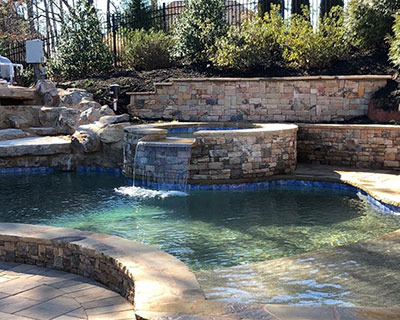 Landscaping is a lot about softscaping and hardscaping, but that isn't all there is to it. A well-balanced landscape also has a range of other features that lend it a cohesive and put-together look- and water features are one of them. Most property owners like to get some kind of water features installed in the outdoor spaces of their home.

While it may seem like these are isolated features, it's important to choose these with care if you want them to complement the look of the rest of your landscape. We at Terra Designs & Creations are one of the most reputed companies in the field and have built a strong client base across Suwanee, Sugar Hill, Lawrenceville, Gainesville and Duluth.

Our company has successfully completed many water feature installation projects in and around Alpharetta, Snellville, Norcross, Lilburn and Winder. Most of these installations are part and parcel of our landscape installation services; however, we have also handled standalone water fountain installation projects for many of our long-standing customers.
Custom Designed Waterfalls
Our landscape designers are extremely creative and skilled and know exactly which feature would look good in a particular setting. They plan the design and overall styling based on the rest of the features and elements in the landscaping. When it comes to water features, there are a number of options to choose from, such as:
Fountains - These are a very popular choice with many property owners. In some cases, we have designed entire landscapes centered on the design and theme of a fountain. Some landscapes are very well spread-out and in these cases we may suggest that more than one fountain be installed too.


Waterfalls - These elements add a very stunning appearance to your yard or garden. We can design rock waterfalls that have a more formal or casual styling, based on the design of your landscape, and your specific preferences. People that have kids or pets in their homes are sometimes concerned about the safety aspect of this installation.

In this case, we can design a pondless waterfall for you. As the name suggests, there will be no pond at the base of the waterfall; however you have the option to add this at a later date if required. Pondless waterfalls are excellent for tight spaces too.
Ponds - If you like a very natural design styling for your yard, you can opt for a Koi Pond. You can add fish and aquatic plants to it and it lends a very unique look to your property.


Streams - These are quaint features that create a very charming look in the landscaping. These could be an extension of a waterfall installation or could be a standalone feature. We can line these streams with river and lava locks to give it a very natural appearance.
When you want sensational and unique water feature installations you need look no further than Terra Designs & Creations. For any additional information and water feature cost please speak with our experts at this number - 770-318-5318. You can also send us all your project details via this online Contact Us form.